We have all seen people hurriedly approach busy roads, often while talking on mobile phones, look both ways briefly before darting across the street diagonally – we're probably all guilty of doing it ourselves once or twice too. It's all too easy to think an accident won't happen to us and that our quick judgment is good enough. However, the injuries sustained by pedestrians being hit by cars can be very serious; it can take a long time to recover, and significant expenses can be incurred. A personal injury claim can be pursued against the person whose negligence caused your injury.
Pedestrian Safety Advice – Remember the Green Cross Code!
Even the most cautious pedestrians can't avoid some accidents – some drivers are just that reckless. However, the number of injuries and fatalities shows we aren't as safety conscious as we could be. It's easy when you're in a rush to become less vigilant. The Green Cross Code is a reminder to all of us (not just children!) about how to be safe on the roads.
Remember to:
Find a safe place to cross
Stop just before you get to the kerb
Look and listen for traffic
Let oncoming traffic pass
When safe, walk straight across the road
Children, Elderly and Visually/Physically Impaired Pedestrians – Ensuring Safety
Some pedestrians are particularly vulnerable.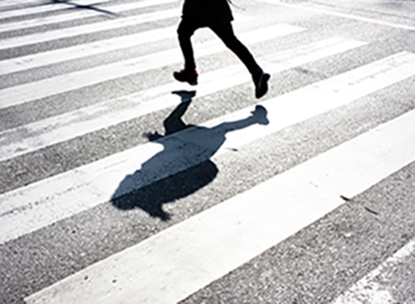 Children don't realise that cars can't see them and, of course, they always want to be ten steps ahead of you, running off in another direction. Children will learn from you – if they see you taking risks near roads, they will follow suit. Extra caution needs to be taken near park entrances, ice cream vans, parked cars and driveways because these are places where children run around and are at risk of running in front of a car.
Elderly may struggle to cross roads quickly or may not realise how fast a car is approaching. Additionally, the effects of an impact are often much worse for an elderly person, and rehabilitation takes longer. Individuals with visual impairments and walking difficulties are especially at risk too. If you fall into one of these categories or are walking with people who do, it's especially important to be aware when you are crossing the road.
Common Injuries
The nature of these types of accidents means some injuries are more likely. Common injuries stemming from being hit by a moving vehicle include:
Fractures
Lacerations of varying degrees (and consequent scarring)
Head injuries
Internal injuries such as organ damage
Mental trauma
Some injuries mean the victim must spend a long time out of work and undergo a long recovery process. Fatalities are also far too common in pedestrian road accidents. The trauma for families in such cases is immense.
Personal Injury Claims
Like any other personal injury, pedestrian road accident injuries can be claimed for. At the time of the accident, it is important to gather as much information as possible (if you have a family member in a serious condition you should do this on their behalf at the time of the accident). There may be witnesses and other evidence that will be helpful in making the claim. It's a good idea to approach a lawyer as soon as possible after the accident occurs – this will get the claim moving along while the information is fresh in your mind. The claim must be brought within three years of the accident, but sooner is better so you can get on with your life.
Your lawyer will look at what happened in the accident – the negligence of the driver must have directly caused your injury. Some cases are not so clear-cut, and your lawyer will advise you on this. You can claim damages for:
Pain and suffering (these are called "general damages")
Lost earnings
Expenses (including travel costs to hospital, medication, specialist care and home modifications if your mobility has been affected)
A family member of a deceased victim can claim compensation for funeral expenses, general "loss of society" damages and "loss of support" if the person financially provided for the family
If you have been involved in a pedestrian accident and want to make a compensation claim, you can find a personal injury law specialist by searching through Solicitors Guru today.