Local bodies, individuals and businesses (especially those within manufacturing or agriculture) need to know the laws pertaining to waste management contained in Part II of the Environment Protection Act 1990 (the Act) and the Environmental Permitting (England and Wales) Regulations 2010 (the Regulations).
To operate a 'regulated facility' (i.e. an installation or a waste operation), operators must have a permit or be registered.
Most of the UK law regarding waste is derived from European Union directives.
What is 'waste hierarchy'?
The EU concept of waste hierarchy requires anyone dealing with waste to deal with it in the following order:
prevention
reuse and recycling
other forms of recovery
disposal
The key objective of the UK Government is to encourage recycling over disposal as much as possible.
How is the UK Government reducing waste produced by the commercial sector?
The UK Government is driven to reduce waste eliminated from industry. It has passed a number of regulations aimed at forcing businesses to recycle more and dispose of less. For example, the Producer Responsibility Obligations (Packaging Waste) Regulations 2007 state that producers of packaging waste must recover and recycle a minimum percentage of packaging. Producers of batteries and electronic equipment also face similar regulatory compliance obligations regarding recovery of waste.
What is classed as 'hazardous waste'
Examples of hazardous waste include: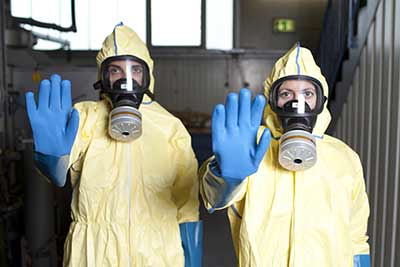 asbestos
flammable liquids
garden chemicals
motoring products
paint (Liquid)
photographic chemicals
poisons
liquid Petroleum Gas (LPG) cylinders
items containing mercury
batteries
oils (excluding car oil)
How do I dispose of my businesses' hazardous waste?
A business owner has a duty to store hazardous waste correctly and carefully, and dispose of it correctly, causing no harm to people or the environment.
You must use an authorised company to collect and dispose of your hazardous waste and fill in a consignment note upon collection. The consignment note stays with the waste until it reaches its destination.
What does fly tipping mean?
Fly-tipping is the illegal disposal of household, industrial, commercial or other 'controlled' waste without a waste management licence.
Fly-tipping is a criminal offence punishable by a fine of up to £50,000 or 12 months' imprisonment if convicted in a Magistrates' Court. The offence can attract an unlimited fine and up to five years' imprisonment a person is convicted in a Crown Court. There are also a number of other possible penalties, including fixed penalty notices between £150-£400 (introduced in England from 9 May 2016); and seizing a vehicle and/or its contents because of suspected involvement in fly-tipping.
To find out more about the law of waste management, contact an experienced environment law solicitor.