In 2016, the Home Office published its new guidance on Marriage Investigations. According to the document, the guidance is, "aimed primarily at Immigration Enforcement staff involved in investigating allegations of sham marriage, civil partnerships and marriages of convenience."
One of the biggest fears of couples applying for a Spouse or Civil Partnership Visa is that they will be accused of entering into a marriage of convenience and in turn, their application will be denied.
What are the eligibility criteria for a spouse visa?
To qualify for a UK spouse / marriage visa you must satisfy the following requirements:
You and your spouse must be over 18 years
You must have met each other and be legally married under UK law
You must intend to reside in the same house
Your sponsoring partner must earn more than £18,600, plus extra if children are involved
You must have a good home for you and your spouse to live in
You must satisfy the English language requirements
What is the definition of a sham marriage
The Immigration Act 2014 states that a marriage is a sham marriage if all of the following apply:
either, or both, of the parties to the marriage is not a relevant national
there is no genuine relationship between the parties to the marriage
either, or both, of the parties to the marriage enter into the marriage for one or more of these purposes:
avoiding the effect of one or more provisions of UK immigration law or the immigration rules
enabling a party to the marriage to obtain a right conferred by that law or those rules to reside in the UK
Why would someone enter into a sham marriage for immigration purposes?
A sham marriage can be an attractive option for non-EEA nationals who want to remain in the UK or enter the country. Once a Spouse Visa has been granted, the applicant can work, study and live freely in the UK and apply for Indefinite Leave to Remain after five years.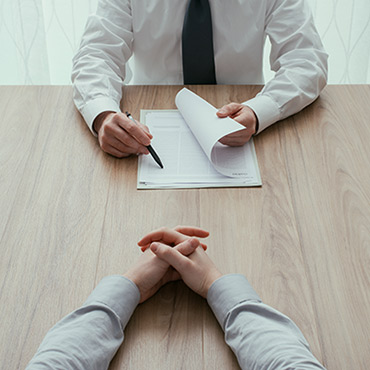 If you cannot provide all the necessary documentation, or the immigration officer managing your application suspects that your marriage is not genuine, you may be asked to attend a Spouse Visa Interview.
The interviewer may meet with you and your spouse separately to ensure you give the same answers to the questions they ask. Examples of questions include:
how and when did you meet?
what is your spouse's favourite food?
how many brothers and sisters does your spouse have?
where did your spouse grow up?
who does your spouse bank with?
how much does your spouse earn?
A Spouse Visa Interview should be taken very seriously. If there are any discrepancies in your answers to the questions, it is unlikely that you will receive an opportunity to rectify them.
The best way to ensure you are not required to attend a Spouse Visa Interview test is to instruct a solicitor who will assist you with your application and the collation of the necessary documents. If an interview is requested, an experienced immigration solicitor can assist you and your spouse with preparing for it.
To find an experienced immigration solicitor in your area, search through Solicitors Guru today.