When someone close to you dies the shock and grief can feel overwhelming.
Looking After You
When someone close to you dies the shock and grief can feel overwhelming. It is important to take care of yourself after bereavement; as the saying goes, you must put your oxygen mask on first before you can begin to help others.
Ensure that you eat well, (even if you don't feel like it), rest when you can and accept offers of help. You also need to give yourself time and permission to grieve; however, people do this in their own way. You may feel like you want to return to work fairly quickly, whereas someone else would want to take a couple of months off to come to terms with their loss.
There is no right or wrong way to grieve so just go with your feelings.
If you feel that you require some outside support, or just want to talk with someone who is not emotionally connected to your situation, you can contact organisations such as Cruse Bereavement Care by visiting their website at https://www.cruse.org.uk/
or phoning 0844 477 9400.
It is important that you do not turn to drugs or alcohol to help you cope with your grief. Not only can they make you feel worse in the long run, but they can also lead to problems of addiction.
Ensure you do not isolate yourself from others, as those close to you will be looking for any opportunity to support you.
The healing process following bereavement takes time, and you need to give yourself the compassion and support required to get to a point where you feel you can look to the future in a confident, content manner.
How to Claim Life Insurance After Someone Dies
The death of a loved one is one of the most stressful events a person can face in their lifetime. One of the biggest administrative burdens one must cope with upon the death of a relative is the claiming of life insurance. This short guide is designed to explain the steps you need to take to make a claim and what to do if your insurer will not pay out.
What should I tell my insurer?
Following the death of the insured, you will need to inform the company that provided the life insurance policy that the insured party has died, and you wish to make a claim.
You will need to provide the following documents:
the death certificate
the life insurance policy form
a claim form (provided by the insurer)
What if I cannot find the life insurance policy?
If you cannot find the life insurance policy form but you know the name of the insurer, give them a call, and they should be able to track down a copy of the policy for you.
If you do not know the name of the company where the policy is held, then contact the Association of British Insurers who will find the documents for you.
How can I speed up the payment?
The first step to ensuring the life insurance policy is paid out quickly is to ensure the forms are filled in correctly.
Usually, the life insurance becomes part of the deceased's estate and is paid out upon execution of the will.
What do I do if the insurer refuses to pay out on the claim?
Most insurance companies do not refuse to pay out on life insurance claims lightly as they know what a devastating effect their actions can have on surviving relatives.
However, if the forms were not filled in correctly, or the deceased committed suicide, insurers may decline to pay out on the policy.
If your claim is refused, then the first thing to do is complain to the insurance company and use their disputes resolution process to try and sort out the issue.
If the dispute is not resolved satisfactorily using the insurance companies disputes procedure, you can take your case to the Financial Ombudsman Service (FOS).
The FOS is an independent body that will look into the claim and decide which party is in the right.
If the Ombudsman decides your claim was wrongly rejected then it can force the insurer to pay you compensation or take steps to change the outcome.
How to Obtain Probate
When a person dies they usually leave behind an estate (assets, money and/or property) and, hopefully a will.
The will should name one or more executors who are responsible for administering the estate and one of their first duties is to apply for a Grant of Probate from the Court.
What is Probate?
A Grant of Probate is an official document which the executors may need to administer the estate. It is issued by a division of the Court known as the Probate Registry.
Do I Need to Apply for Probate if there is no Will?
If a person dies intestate then a relative or close friend of the deceased will need to apply to the Court for a Grant of Letters of Administration. The person to whom Letters of Administration is granted is known as the Administrator. They are responsible for dealing with the dispersement of the estate in accordance with the Rules of Intestacy.
Do I Always need to Obtain a Probate?
You do not need to obtain probate if the deceased's estate is worth less than £5,000 or they own everything jointly with another person.
Should I Engage a Solicitor?
If you are dealing with a large estate then it is wise to obtain professional legal advice. You can find a list of solicitors specialising in wills and probate here.
A Solicitor can also apply to the Court on your behalf for a Grant of Probate.
What to do After Someone Dies
A loved one dying is a devastating experience, regardless of whether it was expected or not. It can be difficult to think about the legal requirements you need to fulfil in the days following the death, so this guide is designed to explain the process step by step, so it is one less thing you have to think about at such a trying time.
What are the legal requirements when someone dies?
There are three things you have to do when someone dies.
Obtain a medical certificate (this is required to register the death).

Register the death.

Arrange a funeral.
What do I do if someone dies at home?
If someone dies at home and the death was expected a doctor will issue a medical certificate showing the cause of death.
What if the death was unexpected?
If someone dies unexpectedly, violently or the family doctor has not seen them in the past 14 days, the death must be reported to a Coroner. They will investigate the cause of death and may order a post-mortem.
What should I do if someone dies abroad?
If someone dies in a foreign country you will need to register the death according to the regulations of that particular jurisdiction and at the British Consulate.
How do I register a death in the UK?
You must register a person's death within five days (eight days in Scotland).
You'll need to take with you the medical certificate showing the cause of death, signed by a doctor. If possible, also take the person's:
birth certificate

NHS medical card or number

marriage or civil partnership certificate.
The registrar will provide you with a death certificate, a certificate for burial and cremation and a certificate of the registration of death.
If the matter has been referred to a Coroner you will not be able to register the death until you receive the Coroner's permission.
What is an inquest?
If a death is violent or unexplained or happens in police custody, the Coroner must hold an inquest. An inquest is an investigation held in public to establish who the person was, and where, when and how they died. Witnesses may be summoned.
The Coroners Act 1988 sets out the duties of a coroner and in what circumstances he or she should hold an inquest and in what circumstances he or she has the choice to do so.
How do I arrange a funeral?
Most funerals are arranged through a funeral director, although you can arrange one yourself. You are responsible for paying the funeral director and they may ask for a deposit upfront.
What if I cannot afford a funeral?
Funerals cost an average of £3,456. If you are struggling to find the funds to pay for a funeral there are a number of options.
Banks are usually willing to consider requests to settle the funeral bill from a late customer's account, provided funds are available. You would have to show the bank the original funeral bill or invoice. The bank would then provide a cheque or other payment payable to the funeral director.

Some funeral directors will offer loans to pay for the cost of the funeral.

The government provides a Social Fund to help loved ones cover the costs of a funeral if they cannot afford it. However, this may not meet the total cost of the funeral.

You can organise a Public Health Funeral (formally known as a pauper's burial). These do not carry the same stigma as in previous times and are a viable option for those who simply cannot afford to pay.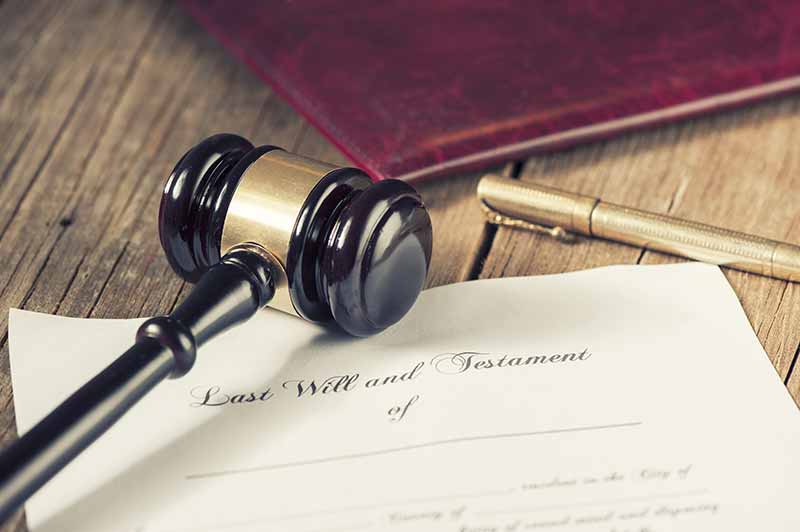 How to Organise a Will
Research shows that less than half of the UK population has a will. However, if you die without having a will (known as dying intestate) then the consequences can be dire for your surviving family members.
Drafting a will is a relatively straight forward process. This guide is designed to explain the basic principles.
Why is it important to make a will?
A will is a legal document that states your wishes for the distribution of your property and assets (known as your estate) when you die. If you die intestate, the Rules of Intestacy will govern how your estate will be distributed.
What constitutes a valid will?
Under section 9 of the Wills Act 1837, in order for a will to be valid it must be:
The will also be made voluntarily and by a person of sound mind, otherwise it has the potential to be challenged in Court.
What is an executor?
Executors are the people you appoint to administrate your will following your death. They are responsible for submitting your will to probate. They will have to collect together all the assets of the estate, deal with all the paperwork and pay all the debts, taxes, funeral and administration costs out of money in the estate.
Executors can also be beneficiaries of the will.
Can I make provisions for my children's' care if I die before they are adults?
Yes. In your will you can appoint Guardians for your children and make arrangements for where and with who they will live with and provide for them financially.
Do I need a Solicitor to make a valid will?
Not necessarily. However, making a will without legal advice can lead to mistakes and/or lack of clarity. If you have complicated finances or many beneficiaries, it is highly recommended that you obtain professional legal advice.
Do I need to update my will?
Yes. If you get married or enter a civil partnership your existing will is automatically cancelled. You should also update your will if you get divorced, have children or by a property.
Can I make a joint will with my spouse?
A joint will cannot be made in the sense that there cannot be just one document. However, spouses can make wills which dispose of property in an identical way. These are called mirror wills and each testator can alter his or her will. These wills can be made in a legally binding, contractual agreement by inserting provisions into the wills that the testators will not alter their wills. There can be alterations by mutual agreement while the testators are still alive, but mutual wills will usually include provisions which will sanction the testator who alters his or her will after the other testator has died.
How much does a solicitor charge for a will?
It will vary depending on how complicated the will needs to be. A Solicitor will charge upwards of £150 for a basic will.
What should I include in my will?
There needs to be sufficient identification that the will is yours. The usual things included in a will are distributions of property, arrangements for looking after your children (if they are under 18), an executor (the person who manages your estate after you die) and what should happen if the people who you want to receive property die before you do. You can include conditions on dispositions and create a trust in the will. Your will needs to revoke all prior wills. Your Solicitor will ensure that all the necessary inclusions are provided for, as well as any additions you want to make which are particular to your circumstances.
I am not married but I live with my partner. Should I make a will?
Absolutely. If you die without a will your de facto partner will not inherit any of your property unless you are beneficial joint tenants in a property you both own.
Who can I appoint as executors?
You can appoint any person (over the age of 18 years) of your choice.
How can I avoid inheritance tax?
The inheritance tax rate is 40% of the value of the estate, which is over £325,000. It will be paid by the executor using the estate's funds. It may feel unfair in the country, where there is no tax on things like online casino winnings and other types of gambling. That is why it is essential to know the legal system to avoid paying unnecessary inheritance tax if you can.
Inheritance tax will not be charged if it is stated in your will that your property is to go solely to your spouse or civil partner. If you die, in testate there may be dispositions to other family members and tax will be charged on this.
If you have a life insurance policy, this should be put into a trust. Trusts can be utilised in other ways to avoid inheritance tax. Additionally, if you make tax-exempt gifts to your intended beneficiaries at least seven years before your death, these dispositions will not be calculated as part of your estate.